Blog: A Stranger in the City? Stories of Erasmus Students in Riga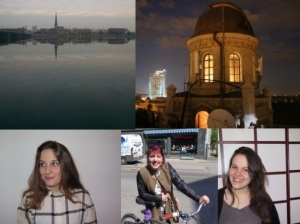 To travel to another country always is a special experience – but just think about living there for quite a while! A new city, a different country, new people and also being confronted with a culture you are not used to. How does the public transport work? How do I have to behave in a restaurant? Can I just act like I usually do? It can be a good feeling to experience a life that is just totally different from your everyday life. Still: It can also be challenging.

I asked some of this year's Erasmus students in Riga: How was it to come to Latvia? Did you see big differences to your home countries, and most importantly: Did you experience a culture shock?
Jeannine (23), Switzerland

Coming to Latvia was not a shocking experience for me.
I already traveled a lot in my life. Of course I prepared a little bit before coming to Latvia. I read some articles about Riga and Latvian culture, mostly on the internet. If I should name something that is very different from my home country, Switzerland, I would probably go for the food. Cheese and chocolate are some kind of national dish back home, and here it just tastes different. Anyway, Latvians eat a lot of pancakes. I like that, simply because I love pancakes. But in general: Everything is so much cheaper!
Here in Riga there are a lot of flower shops, this was a surprise for me. We don't have that in Switzerland. Also, there are a lot of homeless cats and Casinos in town which was really unusual for me when I moved here. Besides, when Latvians sell a regular beer, they always go for 500 ml. This would be a big beer in Switzerland, since we usually drink beer from 0.33 l bottles. That's Interesting! And when you enjoy your beer in a bar, you always have Wi-Fi. But not only there, public Wi-Fi is everywhere! That is quite impressive.
When I think about the people living in Latvia, I would say that they are mostly the same kind of people like us in Switzerland. They act very reserved. Also I have the feeling that Latvians are very proud to be part of the European Union! This was a new experience for me since Switzerland is not part of the EU.
Mirna (25), Croatia

I am from Croatia, and I consider people from my home country as really open-minded and talkative. I think this was my culture shock here in Latvia, because it feels so different! It seems like it is not very easy to become friends with Latvians. They are very polite, but I feel that it is difficult to get information about their personal lives. This is especially different to my home since I am from one of the Balkan countries, we deal differently with that. Of course there are also some similarities: The food is quite similar. In Riga there are a lot of different kinds of religions, I am used to this. You can see a lot of different churches in town, but when you look for a bike road – there is none! Latvia, where is your biking culture? In Croatia, there are a lot of roads especially for bicycles so I can reach every part of the city with my bike. People here just ride wherever they can, here, or over there, they just improvise.
In Riga I fell in love with the second hand culture. I am really into this. You can just walk around and go wherever you like, because the stores are everywhere. We don't have that in Croatia! But going for a coffee after a shopping trip is totally different here in Latvia. Back home I am used to sit in a café for some hours to socialize. Me and my friends are just talking about random stuff, we are really relaxed. Somehow it feels like doing something but also doing nothing at the same time. In Riga, I usually take my coffee to go, like Latvians do.
Chloë (20), France

I already arrived in Latvia last year, at the end of August. I think when I arrived it I was expecting a really big culture shock, but that was not the case! I don't feel like I am very far away from home, even though I am living at the other side of Europe right now. Of course, Riga was not totally the same like my hometown, Nantes. At the beginning I saw some differences. I was surprised about the Old Town, because in Nantes it does not exist. Also I felt like the people on the street are scanning me, maybe because I am somehow special to them or I look like a stranger. I was confused, because I have never experienced that in France. Also, you can see sometimes that Latvia was part of the Soviet Union; some people are still speaking Russian here.
My parents were here two weeks ago, and for them it was probably more different. I think they never experienced the feeling that you can reach Latvia, because they remember it as part of the Soviet Union. But still – I am living here for quite a while, and I have to say that I really feel at home here in Latvia. I actually do, and that's nice! After one year, I have the feeling that as long as you are in Europe, you can't really feel a deep culture shock. We have the same values in all the countries, of course they differ a little bit. But a real culture shock… no, I don't think this can possibly happen.
This is the first blog of Erasmus students of University of Latvia about their life and experience.
Text: Lena Vogel